JEFF'S STAGING FOR MORE MONEY AND A FASTER SALE.
Jeff has formal training in interior design and architecture.
I would be happy to put my abilities to work for your property too. I do not charge for my personal staging services or, when needed, the use of my stock items (towels, pictures, etc.).
Please also see the Testimonials page for comments about my staging.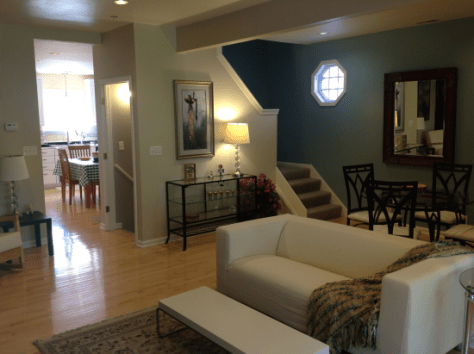 In this living room photo, the owner and I shopped for some new items she could use in her next place too. She chose to purchase a few items from Ikea and a local upscale resale shop I recommended. The art, mirror, rug, coffee table, kitchen tablecloth, and the (barely visible) chair and table by the doorway are mine.
The room originally had walls painted all in the dark blue; I asked her to paint the room "cream" but leave the one wall blue for accent.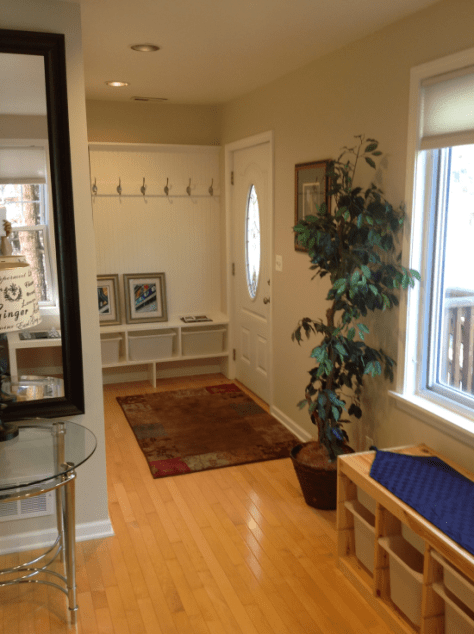 This photo also has a mixture of the home owner's items and mine. The chrome table in the foreground, the tree, the rug, and the art are from my staging stock.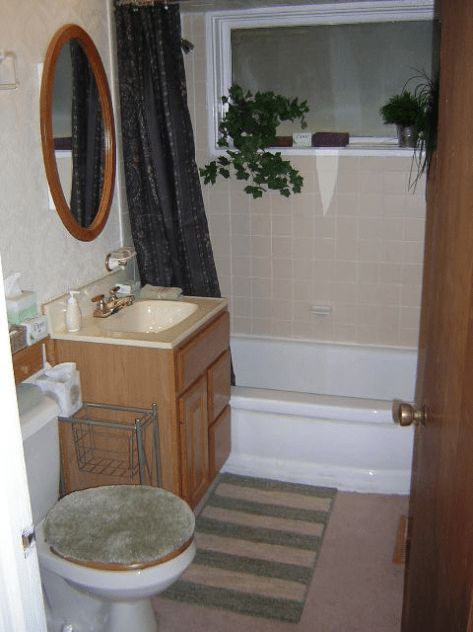 This was a completely vacant house, using my bathroom staging items.

Also, a completely vacant house, using my stock of bathroom staging items.
I have staged many, many houses. I have staged completely vacant homes and homes using the owner's personal items, rented ones, or a mixture of both.
I have lots more photos too. If you would like to see more, ask. I would be delighted to send more to you.
Best, Jeff
---
Below is an e-mail to a selling client with my suggestions for preparations before listing her property.

(I offer this type of advice ALL of the time for clients and potential clients. This is included here for example purposes.)
Dear XXXX,
I have some furniture, art, and mirrors, towels, etc that we can use to stage this nicely when it is ready. Here is that page on my website I would like for you to look at. Here's the link, (this page).
It is hard to put a firm price on the property until we have it ready. (And right before listing we will look at the comparable sales again.) But I think it would do very well. I think it should do considerably better than you had hoped. Possibly list at $189K. The comps are there and all forecasts for the upcoming 2014 Spring market in the Chicago area are excellent. (Google this too.)
I told you that I would give you a written list of items that should be repaired or updated to make the property show in it's best light. Here it is.
ESTIMATES ARE FOR MATERIALS AND TIME. COSTS ARE FIGURED (FOR THE HELPER/FRIEND YOU MENTIONED) AT $10 PER HOUR.
These are the minimal things that need to be done.
If you have any extra money for upgrades, the kitchen would be where to put it. Any upgrades there would return to you many many times over, and likely make a much faster sale too.
Granite, newer sink and upscale faucet, add cabinets and countertop opposite the fridge. Again, this is not imperative though, only if you are able. It could be several thousand more, but we could ask much more and people would probably fight over buying the house then too.
It really is a beautiful place. However with at the least a new glass door in the kitchen, mirrors and some light staging it will feel much more spacious.
(See the photos at the end of this webpage.)
SHOPPING:
3-4 hours $30-$40.
PAINTING: 
Repair walls and paint everything on all 3 floors an off-white cream color (eggshell finish); paint the trim a pure white (semi-gloss). The filling of the holes should not be made into a big deal by the painter, as it is not.
Paint, 7-8 gallons at $30 per gallon, $210-$240,
1 gallon trim pain: $30. (Don't buy cheap paint; you'll regret it if you do.)
2 people 3-4 days, 3 people 2-3 days.
$10per hour, $80 per person per day, about $500-800.
EXTERIOR:
Some areas of the exterior trim could use a little attention and touch up painting when we get a warmer day. Try to match the paint color to the old color.
$30 for a gallon of paint,
$10 for the quick-set filler, and
should be no more than a day's work for someone $80.
KITCHEN: 
A new kitchen countertop by the dining room pass-through. Granite look in a light cream tone: $30, 1 hour.
New kitchen door in glass to open up the kitchen and show off the 3 season room and the beautiful back yard beyond: $200, 4 hours.
Re-set the present kitchen faucet: 1 hour.
Replace the damaged wood and shelf under the kitchen sink: $10, 2 hours.
Clean the fridge and replace the refrigerator handle (that you already bought): 1 hour.
Clean Stove: 1 hour.
Fix the threshold in the dining room. Fill with wood putty and stain: $10, 1 hour.
1st FLOOR BATH:
Caulk bathtub: $5, 1 hour.
Repair the tile above the bathtub faucet. Hard to say: 2-4 hours, $20-40. (Make sure the cause is addressed 1st.)
1st FLOOR HALLWAY:
Replace doorknob: $10, 1/2 hour.
BASEMENT:
After painting, slap down some 12×12 peel & stick tiles on top of the damaged Pergo basement floor.
Use the cheap $.38 oak wood-look tiles. They will look just as nice as the $2 tiles. Materials about $150. Time 2 people: about 6 hours $120.
The new paint will hide any watermarks from the previously repaired flooding. Check to make sure there is no other old evidence of this repaired problem too.
LAUNDRY ROOM:
Repair ceiling. This room should be painted as well. Everything should be painted here. Freshness everywhere is what will bring the most money and a faster sale.
$10 for repair netting. (Make sure the cause is addressed 1st.) 1 hour.
MISCELLANEOUS: $200-$500 (There is always something that will be unexpected.)
After the work is ALL done throughout the house, then and only then, the wood floors and the carpet should be cleaned. $100? to rent a carpet cleaning machine and any materials.
XXXX, I am concerned for you as you are now living out of state. I suggest that you pay the head worker no more than 20% of the labor or $300, whichever is less, to begin. Then have the head worker pick out the materials at Home Depot, and you make a plan with this worker for you to be available by phone to pay for the materials at the contractor's desk of Home Depot.
This is very important. Keep in mind that paying as much of the balance as you can at the completion (and absolutely not "near" the completion) will help you to avoid potential headaches and major disappointments with (even well-intentioned) workers dragging their feet or even not finishing. This is true even if you know someone well. The better you know them, the more secure THEY should feel that you will pay them.
You can make me the "bad guy" here; let them know that this is what your Realtor INSISTS on even if you know them well.
PS:
I do not mind going by and giving a final "punch list" when your head worker feels near completion. This is important too as jobs can often be "half-done," even when they feel everything is fine. Details in construction are important, and final payment should be held until the punch list is totally complete.
Best, Jeff